I'm pleased to announce that A Journey for Happiness is officially with the printers. I've read and re-read my book too many times now. And I have no sense as to how it might land with a first time reader. I'm excited to find out though, and hear your thoughts once you get your copy…soon soon!
How many books!!!
We opted for the very reputable Scottish book printers Bell & Bain, ordering a total of 1,200 books (1,000 paperbacks and 200 hardbacks). In the end, the official count for pre-ordered books on this crowdfund was 264. But, given how much was raised from all your generosity, we had the money to print quite a few more. Fingers are crossed that those extra books will find good homes.
Though it won't be easy, because I made a decision last month to not make this book available on Amazon. No, it will be strictly word of mouth, via my website, and if I'm lucky a few independent book shops. And then, of course, there is also me rolling around with a pannier full of books and #JourneyForHappiness strapped to the back.
When will you receive your copy?
The printers are yet to confirm when they'll deliver the books to me. My fingers are crossed that it'll be more than enough time for me to sign and package them all up, so that they arrive in time, as promised, for International Day of Happiness on the 20th March.
Though, might I add, that the official launch date of the book won't be until the 21st March. Quite simply I think happiness has to be about more than a day. It's a journey, and sometimes that journey includes a tonne of sadness and difficulty. And there is nothing wrong with that. The book is all about honouring the complete journey – from start to finish, however it comes, in all its shapes and colours – and ultimately finding hope and meaning.
A sneak preview of the contents page…and then a video
So to wrap things up on this update – how about a sneak preview of the contents page? Any of those chapters particularly pique your curiosity? Some of them are quite gritty and raw – chapter 12 and 15 are my personal favourites. Both go deep.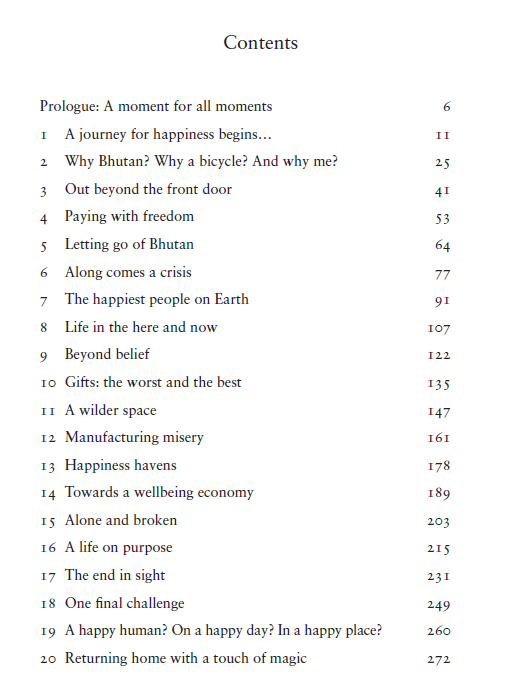 And finally, we can't have an update without a small video. This video is quite a special one, because the book begins where this video ends. What happened after I'd set up my tent where I came to rest at the end of this video led to an experience that took me far beyond myself. I describe it in the prologue: "a moment for all moments", and then we'll come back to it again in a later chapter. In joy.
Christopher and The Team